Press Release 99-184
November 10, 1999

ACLU of Hawai'i Foundation responds to our call for assistance.
The Bring Our Ancestors Home Foundation announced today that a letter was received from
the ACLU of Hawai'i Foundation in response to its initial letter for assistance.

According to foundation president, Norbert Perez, "We received a letter from Ms. Vanessa Chong, the
Executive Director of the ACLU of Hawai'i Foundation in response to our request for assistance. Ms. Chong advised that the
ACLU accepts only cases involving discrimination and that they have no experience in ancestral remains and sacred artifacts.
However, in meeting with Ms. Chong, she indicated that they may help in another case involving the Guam
Attorney General and the Department of Public Health and Social Services."

"Consequently, we have met with Ms. Holly Richards of the State Foundation for Culture and the Arts and she
promised to assist us in our endeavors to Bring Our Ancestors Home - from the Hawaii front." Perez added. "Additionally,
we have made appointments to meet with Hawaii Governor Ben Cayetano and United States Senator Daniel Inoye."

"It is so humiliating whenever we discuss the issue of our ancestral remains and the betrayal from our own Governor and
Lt. Governor in building the shrine for the Korean Air Crash Victims while ignoring the remains of our own ancestors, who
have been waiting 75-years in shoeboxes, waiting to be repatriated back home." Perez declared. "We don't know if Governor
Gutierrez and Lt. Governor Bordallo share the same passion and sentiments but there is an ancient Chamori Proverb that
'Taya' na' mamahlao para i man taimamahlao'."

"An amusing question came up at a recent foundation board meeting as to this scenario: What will the government of Guam do to
Norbert Perez if I decide to bring the remains into the island anyway? Will I be charged with the importation of
human remains without a government permit? Will I be jailed for bringing home the bones of my ancestors? Will the remains be
shipped back to Hawaii?" Perez chuckled.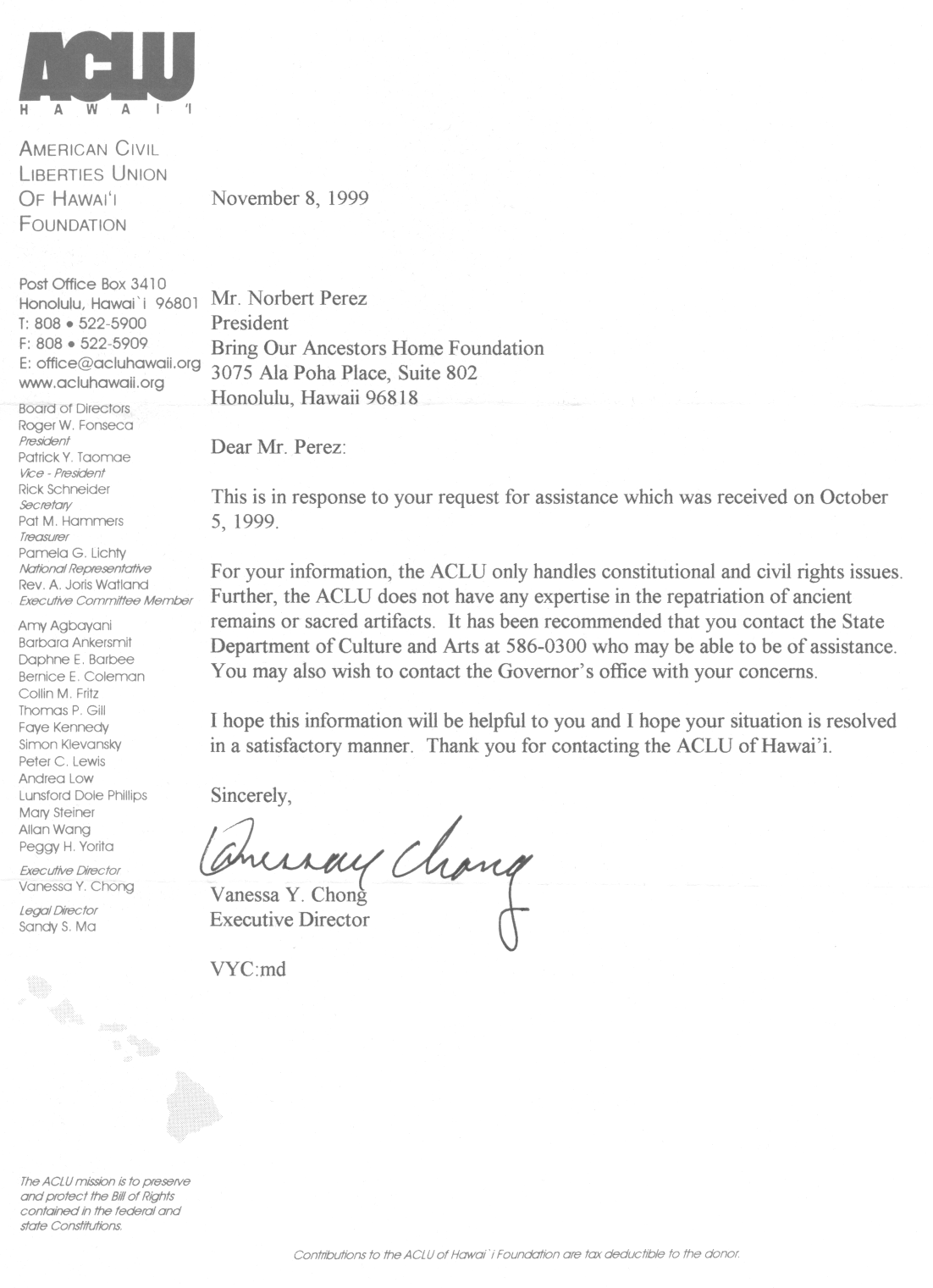 Prepared by:
Lawrence Muna
Board Member
Bring Our Ancestors Home Foundation
Honolulu, Hawaii