E X P E R I E N C E
The
Ancient Chamori Royal Wedding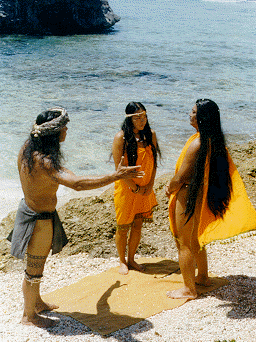 "The Testimonial Ritual"
The Maga'saina now orders the royal couple to dress and return to their appointed spot. He goes into a monologue on the sacred rites. Finally, he calls on the witnesses to speak out if this Hacha'gua is not blessed.
The ancient people of Guahan or Taotaomo'nas believed in the sacred and heavenly union between a woman and a man. They called the Ancient Chamori Royal Wedding Ceremony "Hacha'gua", which means to be ONE or to become ONE.
As one of the only surviving matriarchal societies in the world, the Taotao Tano' of Guahan capture the true meaning and symbolism of ancient class royalty and womanhood in the perpetuation of their unique wedding system..."Hacha'gua"

For information and reservation, please call..
Pugua' International Corporation
@ (808)839-5208 or (671)734-6356 Guam or Saipan
Powered by counter.bloke.com