The


Ancient Chamori
Royal Wedding
Alåhas Hacha'gua
Royal Wedding Jewelry
Designed by Norbert Perez

The Taotaomo'nas of Guahan were practical but regal and
expressive people. The sacred Haggan shell, assorted seashells and a
collection of gemstones offered a variety of ceremonial jewelry.




This atdas is specially made from Pokse' and Kolålis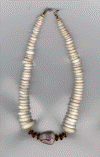 This Puka Shell Necklace was specially made
in Hawaii for the Royal Couple.



This is the Ancient Chamori Love Beads. It is worn by the
Låhi to signify that he is in Love with someone in the Clan.
When the HACHA'GUA ceremony takes place, the bracelet
is removed to signify that he is already taken or spoken for.





These head bands or atdas are made
from the Tottot and Ko'ko feathers.




This Tapa Cloth is the ceremonial placemat for the Royal Couple.
Hacha'Mori
Pugua' International Corporation
HAWAII OFFICE
1050 Bishop Street, Suite 200
Honolulu, Hawaii 96813
Tel: 808-247-8742
E-mail: chamori@lycos.com